FAMILY OWNED & OPERATED FOR OVER 90 YEARS.
DUFFS JEWELLERS HAS ESTABLISHED ITSELF AS GEELONG'S PREMIER JEWELLERY STORE.
Duffs Jewellers Founder - Frank Alexander Duff
Duffs Jewellers began with the birth of Mr. Frank Alexander Duff in 1906.
He was born in Gippsland in a small town called Neerim South where his father owned a coach building firm. At the age of 17 he decided to move to Melbourne to learn a trade. He obtained work with a firm called P. Falk & Company who were involved in the wholesale industry of giftware, watches and jewellery. Shortly after he left to work with a watchmaker named Charlie Cutler where he served his apprenticeship and became a qualified watch-maker. During the five years that he lived in Melbourne he learnt the basics of the jewellery trade, this later helped him to start his own business. In the same time he married Dorothy Hyde and together they looked for a suitable location to start the business.
In 1927, he found a small giftware store in a town called St. Arnaud in Central Victoria and with the help of his good friend Charlie Cutler obtained a loan and moved to St.Arnaud. He called this store Duffs Gift Store and traded profitably for nine years.

Unique barometer produced for St Arnaud gift store - 1927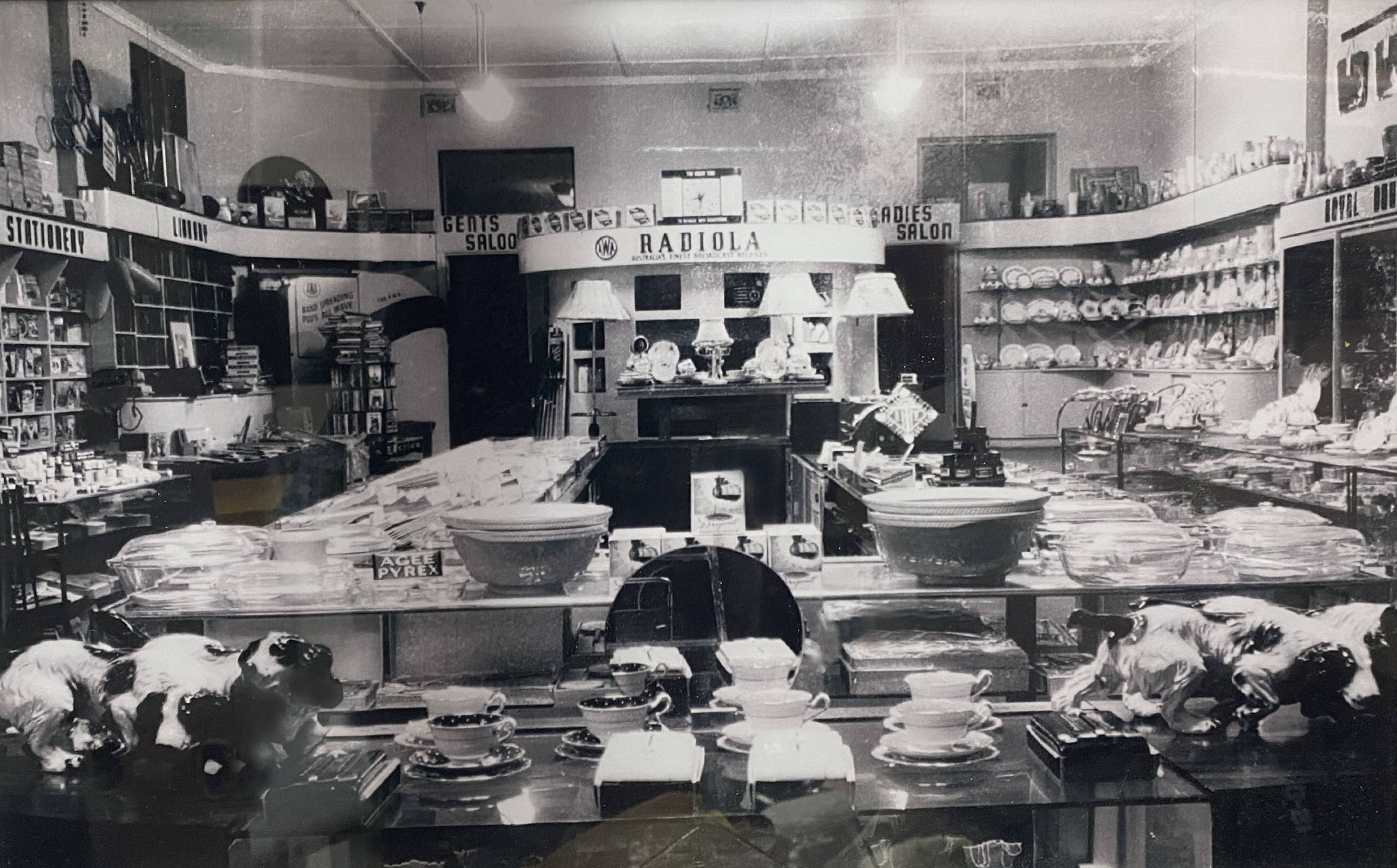 Duffs first store, St Arnaud - 1927

Frank and Dorothy had 3 children, Frank (Jnr), Margorie and David, all who played a part in the success of the business.
Frank would work seven days a week, twelve hours a day to achieve his goals, except Wednesday afternoons when he would spend time with his family and would often take Frank Duff Jnr. rabbit hunting.
In 1937 Frank Snr. moved to larger premises. To make the gift store more viable, Frank sublet parts of the store to other trades. There was a men's Barbour, a ladies hair salon, a tobacconist, a library, a Stationer, and a gramophone distributer.
World War II had now begun and it became almost impossible to obtain imported stock, including diamonds, gemstones, watches and china. To maintain a constant stock level, Frank Snr. would travel to Melbourne and other large cities, to buy whatever goods were available. He would even buy of large retailers and resell in StArnaud at a very small profi t, to satisfy his customers.
While living in St.Arnaud, Frank was on the local council, and was the Chairman of the committee to provide adequate fresh water to the town.
At the end of the war Frank Snr. sent his oldest son Frank to learn the trade of watchmaking in Frankston. Frank Jnr. returned to St.Arnaud in 1950, to help run the family business. With three children now living in St.Arnaud Frank Snr. decided to move to a larger town, where he felt his family would have a more successful future. He considered renting a premises in Melbourne or buying a building in Geelong, finally choosing Geelong.
Frank Jnr., at the age of 20 was sent to Geelong to take over F.Band & Son, an existing jeweller in Ryrie Street, who was looking to retire. At the same time, Frank Snr. wound up the St. Arnaud store and then moved the whole family to Geelong. It was decided to maintain the name of F.Band & Son as they had built a reputable name in the city and an image, which Frank wanted to retain.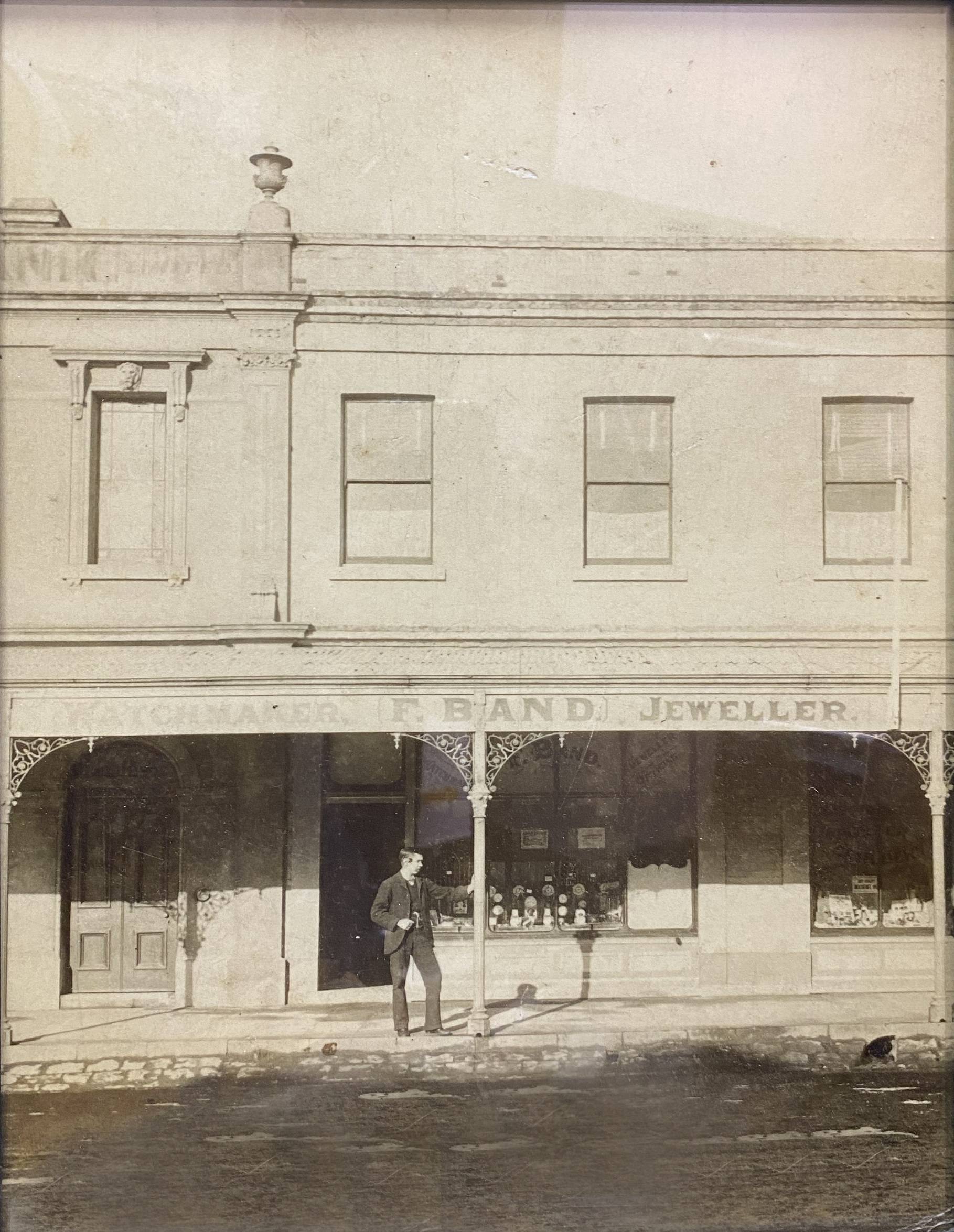 F. Band & Son store - 1945

In 1953 Frank Jnr. opened a second smaller store in Moorabool Street, and later consolidated the two Geelong stores into a single large store at 134 Moorabool Street, and was branded as Duffs Jewellers. During that time, Franks younger brother, David joined the business in 1961.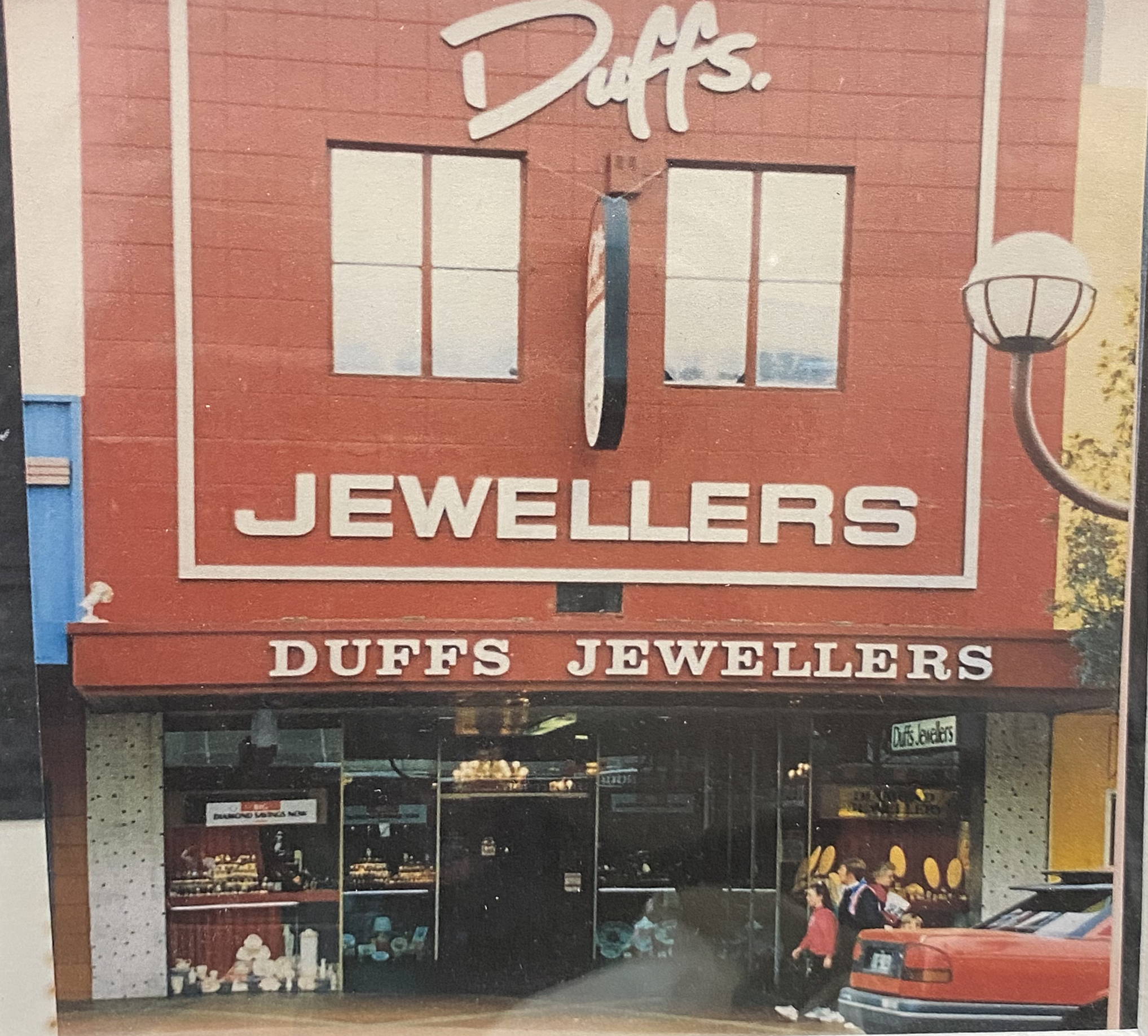 Duffs Moorabool Street store - 1986
Duffs Jewellers were now well established in Geelong and had earnt a good reputation for service and quality and a prestigious name in jewellery.
In 1977 Frank Snr. celebrated his 50th year in the retail jewellery and his grandson, Ross joined the business in 1978 as the third generation of the family.
Sadly in 1982 Frank Snr. died after 54 years in the retail jewellery business, leaving behind a unique quality jewellery store in Geelong. He used to say that he felt he had lived through one of the most interesting times in the history of the world.
1988 welcomed Ben Duff, the second grandson to join the business, and shortly after we opened a new jewellery store in Market Square.
2007 was a big year, with the relocation of our Moorabool Street strip shop, to Westfi eld in Geelong. This was a tough decision; however, shopping trends had changed and we needed to change. In the following years we acquired the shop next door in Westfi eld and built a stunning store which is still trading today.
In 2011, another milestone was achieved as Sam Duff, a fourth generation family member entered the business as the great grandson of Frank Alexander Duff.
2016 saw the expansion of Duffs Jewellers to the neighboring town of Werribee.
2022 saw Duffs Jewellers come full circle, with the departure from Market Square and Weribee shopping centers and relocation into the vibrant strip shop precinct of Geelong West.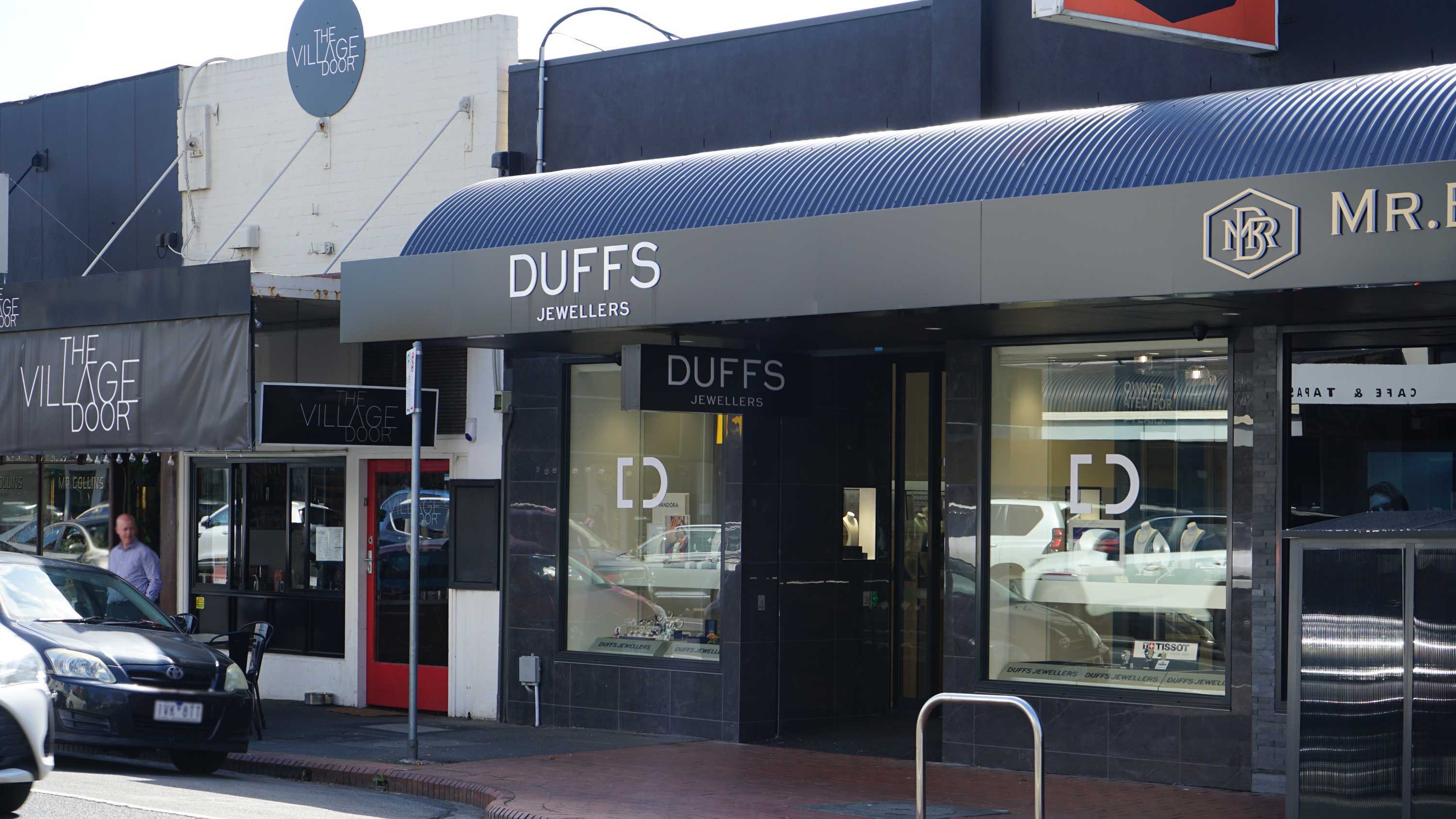 Duffs Jewellers Pakington Street - Opened 2022
1927 St Arnaud General Store

1950 Geelong Ryrie Street
1953 Small Shop Moorabool Street
1968 134 Moorabool St
1985 Market Square
1993 Bay City Plaza Jewellery Repair Kiosk
1997 Relocated Market Square
2007 Westfi eld New store and Relocation
from Moorabool Street
2014 Waurn Ponds - New Store
2016 Duffs in Werribee - New Store
2022 Consolidation
2022 Geelong West Pakington Street