Posted on September 07 2023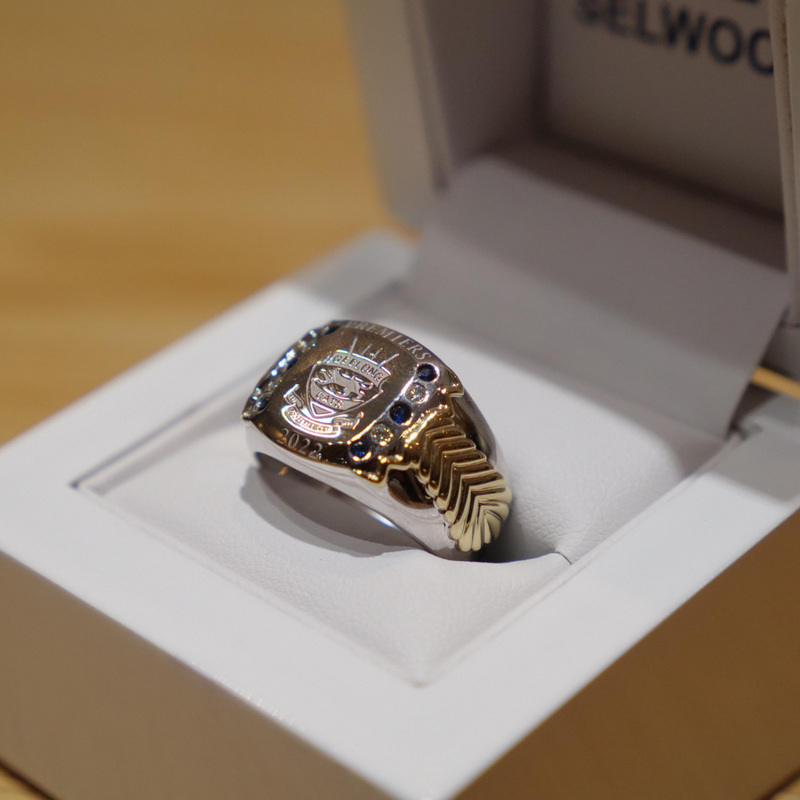 Duffs Jewellers had the honour of creating custom designed and personalised premiership rings for the Geelong Cats players commemorating their incredible 2022 season.
Duffs' senior design consultant Jessica Zeromski hand sketched the original design, which was then submitted to Duffs head of creative Ben Duff for approval.
Jessica's brief was to create a bold and substantial signet ring using a colour pallet of white and yellow gold with a mixed use of natural gemstones. The feature of the yellow gold shoulders pays homage to the iconic leaves featured on the AFL premiership cup and the use of blue and white gems is clearly a nod to the famous hoops.
Jessica's final concept sketch was submitted into the Duffs factory for a 3D CAD rendering. As each ring is a unique one-off item, 23 individual CADS were generated with each varying slightly due to finger size and individual player number.
Over a five-week period, all 23 custom designed premiership rings were manufactured.
Meanwhile Duffs' gemstone department went about sourcing the natural sapphires and diamonds that would be set into the face of each ring. The lasering of the Cats logo, year and players initials were also added to the ring with a final polish and plate then given to each piece.
Four- time premiership player and retired captain Joel Selwood visited Duffs Jewellers Westfield store recently to collect his 2022 premiership ring.
Joel now has an impressive collection of four premiership rings, all created by Geelong's locally owned and operated jeweller, Duffs Jewellers.